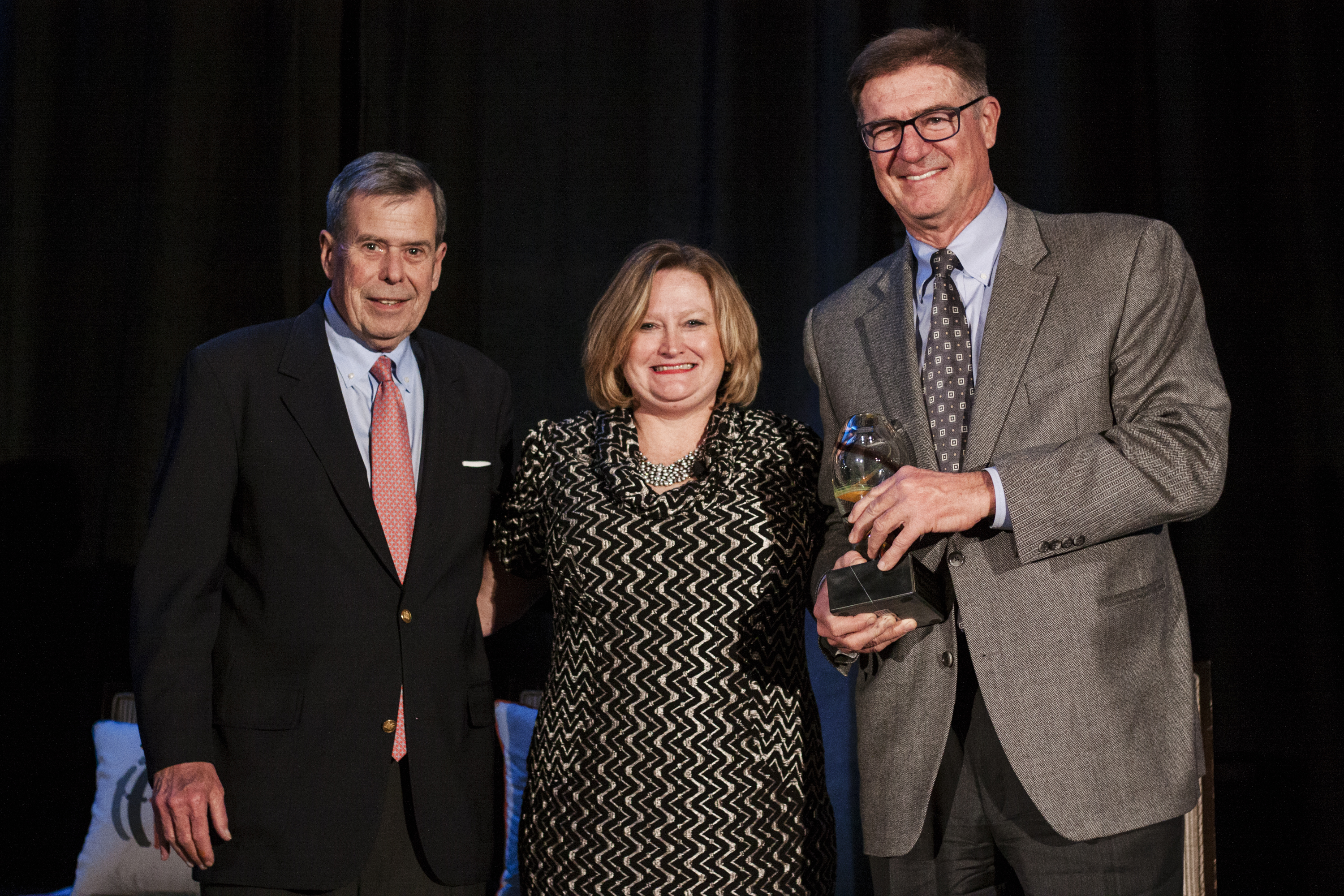 FOR IMMEDIATE RELEASE
DATE: January 11, 2018
CONTACT: Christa Beall Diefenbach, CNP, Nonprofit Leadership Alliance (Email)
Kansas City, Mo. – The Nonprofit Leadership Alliance recently presented Jimmie Stark with the prestigious H. Roe Bartle Momentum Award. The award presentation was at the annual Alliance Management Institute, an educational conference geared toward students planning a career in the nonprofit sector, on January 5, 2018, at the Kansas City Marriott Downtown.
Named in honor of the Alliance's founder, H. Roe Bartle, the national award recognizes an individual, group or organization that has strengthened Mr. Bartle's vision and has enabled the Alliance to better fulfill its mission of strengthening the social sector with a talented, prepared workforce.
Jimmie Stark joined the Board of Directors in 1994 and has served continuously since that time. During his service to the Alliance Board of Directors, Stark served on the Development, Finance, Audit, Investments and Executive committees. He also served as treasurer and then chair of the Board of Directors. Stark was instrumental serving on the 2015 Real Estate Taskforce and Capital Campaign Committee that paved the way for the Alliance to move to the current office location in the Kansas City Downtown Crossroads District. Stark currently serves on the Strategic Partners Committee, helping fundraise for the Alliance's 70th anniversary.
"Jimmie taught me how to make great business projections so that the Alliance could take calculated and strategic risks," said Susan T. Schmidt, CNP, president of the Nonprofit Leadership Alliance. "Under his leadership, our organization has launched new initiatives, increased our network and significantly expanded our impact."
The 2018 honorees were chosen by an awards selection committee of key Alliance stakeholders, including affiliated faculty members, alumni, nonprofit partners, board members and sponsors.
About the Nonprofit Leadership Alliance: Since 1948, the Nonprofit Leadership Alliance has worked to strengthen the social sector with a talented, prepared workforce. Its Certified Nonprofit Professional (CNP) credential is the only national nonprofit management certification in the U.S. The Alliance system, which includes nearly 40 colleges and universities, 15 national nonprofit partners and more than 10,000 CNPs, is the largest network in the country working to build a talent pipeline for the social sector.
---