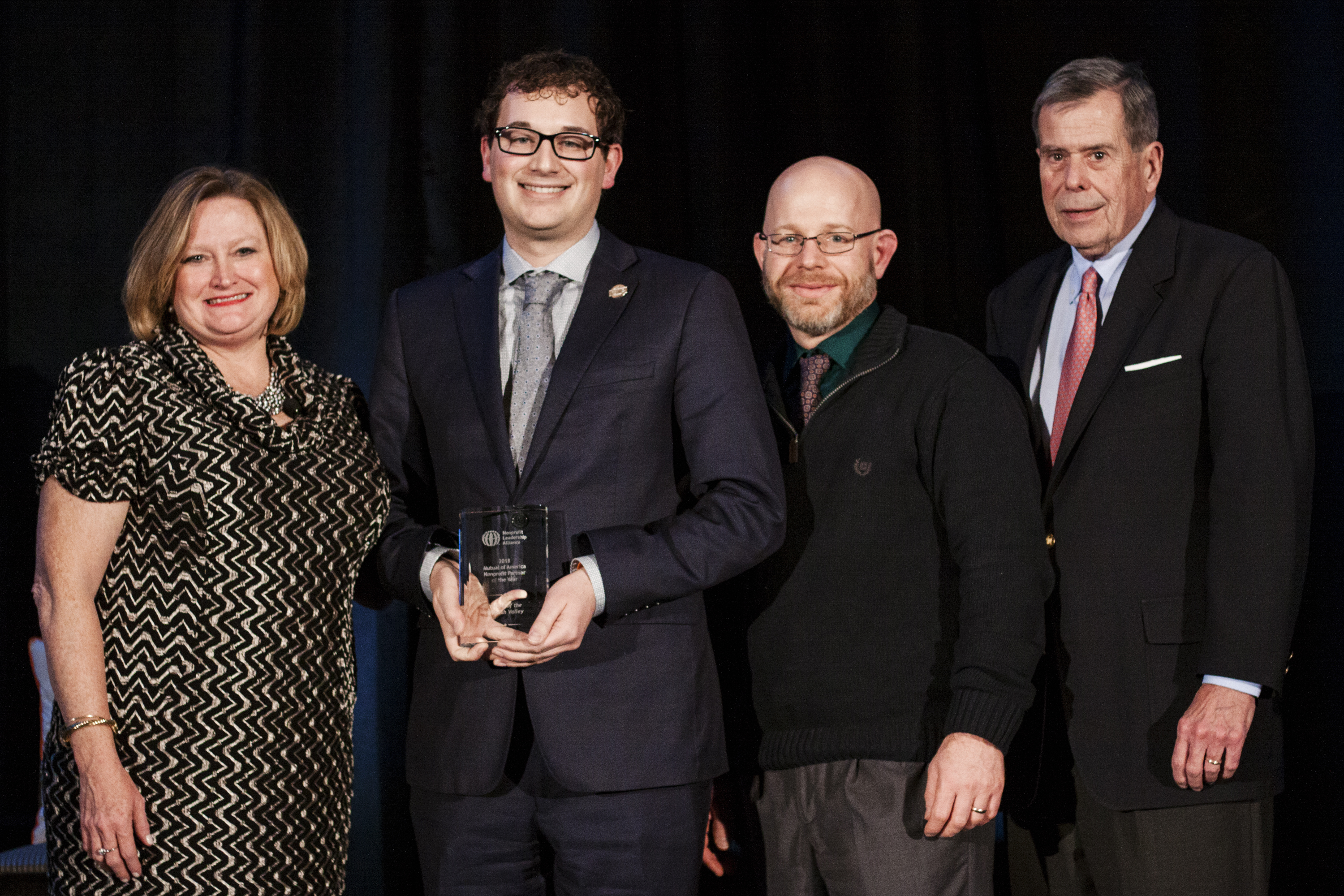 FOR IMMEDIATE RELEASE
DATE: January 11, 2018
CONTACT: Christa Beall Diefenbach, CNP, Nonprofit Leadership Alliance (Email)
Kansas City, Mo. – The Nonprofit Leadership Alliance recently presented The YMCAs of the Wabash Valley with the Mutual of America Nonprofit Partner of the Year Award. The award presentation was at the annual Alliance Management Institute (AMI), an educational conference for students entering the nonprofit sector, on January 5, 2018, at the Kansas City Marriott Downtown.
This award is given annually to an organization that demonstrates leadership and commitment to supporting the preparation of the nonprofit workforce through its partnership and support of the Alliance. The YMCAs of the Wabash Valley champion the mission of the Alliance through their support of the Alliance campus programs located in the area, specifically Indiana State University.
The YMCAs of the Wabash Valley support the Alliance by providing service-learning opportunities for Alliance students at Indiana State University and hiring Alliance students and graduates for full-time, part-time, and internship positions. This past spring, they co-hosted a spring break camp with Indiana State students that served more than 50 children.
"The YMCAs of Wabash Valley create a variety of opportunities for our students and Certified Nonprofit Professionals to develop and grow in their work," said Susan T. Schmidt, CNP, president of the Nonprofit Leadership Alliance. "We are proud of the great work they are doing to improve communities in the Wabash Valley area."
The 2018 honorees were chosen by an awards selection committee of key Alliance stakeholders, including affiliated faculty members, alumni, nonprofit partners, board members and sponsors.
About the Nonprofit Leadership Alliance: Since 1948, the Nonprofit Leadership Alliance has worked to strengthen the social sector with a talented, prepared workforce. Its Certified Nonprofit Professional (CNP) credential is the only national nonprofit management certification in the U.S. The Alliance system, which includes nearly 40 colleges and universities, 15 national nonprofit partners and more than 10,000 CNPs, is the largest network in the country working to build a talent pipeline for the social sector.
---