The Nonprofit Leadership Alliance was founded in 1948 as American Humanics by H. Roe Bartle – a visionary and social entrepreneur who believed that the most important determinant of nonprofit success is the quality of its workforce. Bartle saw a significant deficit in nonprofit leadership – at a time when demand for youth programming was at an all-time high. His response was to build a hands-on training ground that would be housed in an academic environment. Bartle's vision lives today in the Alliance: the largest network in the world working to build a pipeline of talented and prepared professionals. 
1948-1973 

Founded by H. Roe Bartle
• First academic partnership with Missouri Valley College
• Expands to four academic partners
1974-1993
Introduction of National Nonprofit Partners
• 11 national nonprofit organizations join as partners
• Academic partnerships grow to 12
1994-2002
Period of Expansion
• W.K. Kellogg and other foundations invest in American Humanics to expand the number of colleges and universities offering the credential
2003-2013
Nonprofit Leadership Alliance
• W.K. Kellogg Foundation grants $5 million for the Alliance to fund nonprofit internships
• American Humanics rebrands as the Nonprofit Leadership Alliance and begins to offer the Certified Nonprofit Professional (CNP) credential
About H. Roe Bartle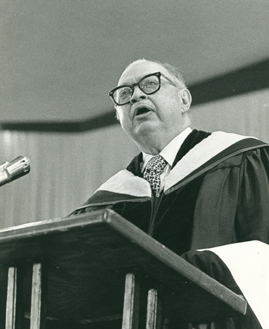 H. Roe Bartle was involved in Scouting for the vast majority of his life. He began his professional Scouting career at age 21 as Scout Executive for the newly formed Cheyenne Council. The council covered the entire State of Wyoming, and was based out of Casper, Wyoming. In 1928, Bartle became the Scout Executive for the Kansas City Area Council, and served in that role for 27 years until his retirement in 1955. In later years he donated his salary back to the council each year to be used to further the cause of Scouting. For nearly 30 years, the Chief, as he was often called, led the Kansas City Area Council, now the Heart of America Council of the Boy Scouts of America. Having also served two terms as Mayor of Kansas City, it is no coincidence that the Kansas City Chiefs have their name.