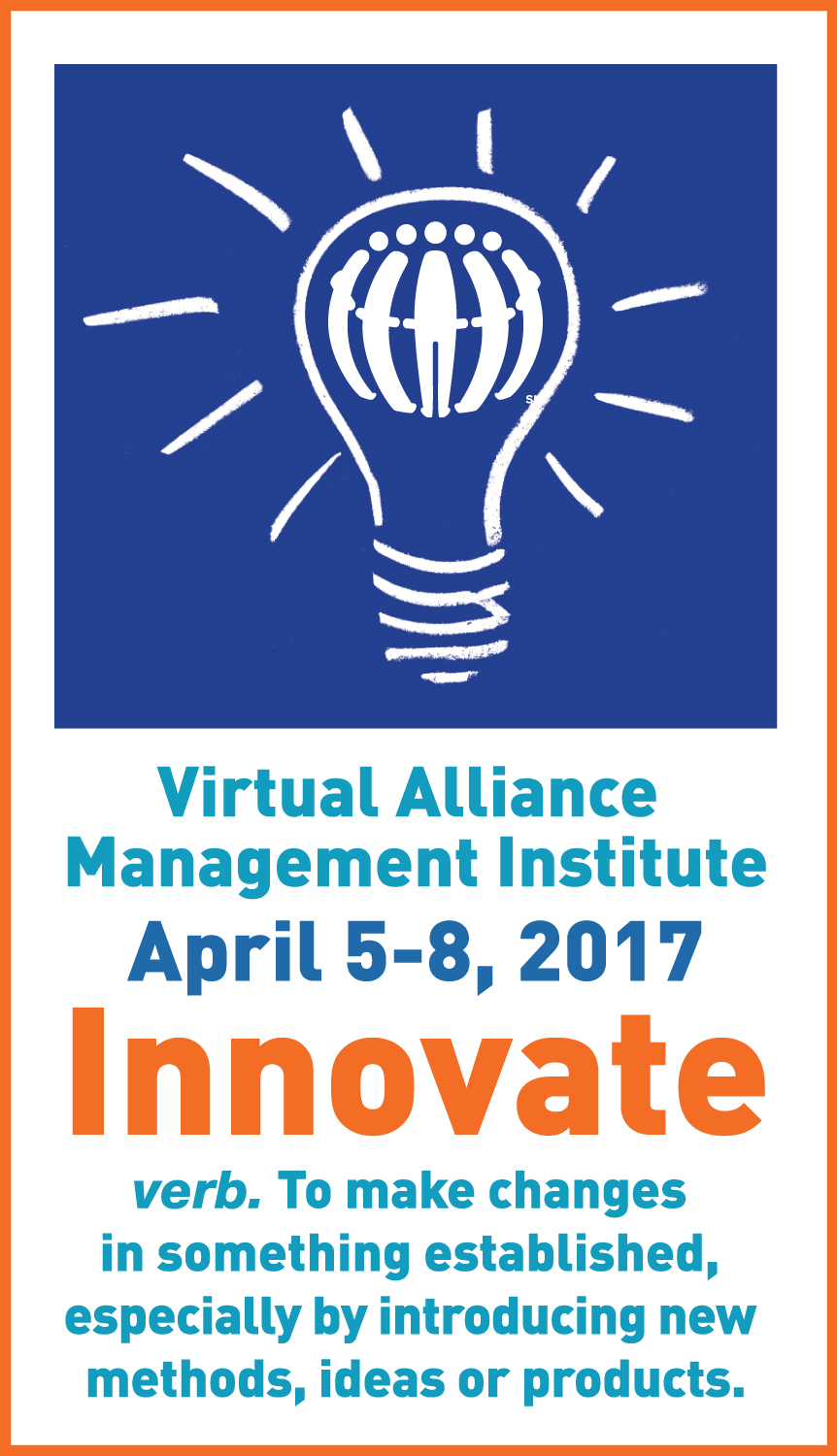 The Virtual Alliance Management Institute (Virtual-AMI) is the only completely virtual nonprofit career conference. Virtual-AMI is designed for professional learners seeking the Certified Nonprofit Professional (CNP) credential and for CNPs. Virtual-AMI offers a dynamic online learning experience that exposes current social-sector leaders to best practices, innovative thinking and unparalleled networking. The conference is four days long, April 5-8, 2017, and includes webinars, recorded videos, discussion boards, a live Twitter chat, and a guided strengths assessment powered by StrengthsFinder.
Most programming may be accessed at a time that is convenient for the participant. During the course of the week, learners can anticipate spending approximately 10-12 hours watching engaging webinars and videos, chatting in discussion rooms, and working through projects.
Virtual-AMI meets the conference requirement for professionals working toward the Certified Nonprofit Professional (CNP) credential through the Workforce Track, or for graduate students and professionals* at Alliance-affiliated campus programs (with campus director permission). It is open to all those interested in gaining the network, resources and skills they need to fast-track a nonprofit career. Premium members of the Association of Certified Nonprofit Professionals receive 20% off registration.
Technical requirements: access to a computer or mobile device with high-speed internet capabilities.
*If you are a graduate or professional student at an Alliance Campus Partner, please contact your campus director for your eligibility for this experience. If you are an undergraduate student at an Alliance Campus Partner, your next opportunity to meet the conference requirement for the CNP is at AMI 2018 in Kansas City, January 3-5.
Questions about Virtual-AMI? Contact Jesse Osman, events executive, via email or at 816-463-9473.
Virtual-AMI Schedule
All presentation times are in Central Time. All live presentations will be available by recording.
Wednesday, April 5, 2017
| | | |
| --- | --- | --- |
| Time | Title | Presenter(s) |
| On Demand | Welcome to Virtual-AMI | Susan T. Schmidt, CNP |
| 6 p.m. CDT | Marching Out to Meet the Future | Robert Egger |
| On Demand | Finding Your Strengths | Rhonda Knight Boyle |
Thursday, April 6, 2017
| | | |
| --- | --- | --- |
| Time | Title | Presenter(s) |
| 12 p.m. CDT | Innovative Program Design | Debbie Espinosa, CNP |
| 3 p.m. CDT | Launchpad for Innovation: What We Know About Motivating Donors | Ann Goldman and Leslie Allen |
| 6 p.m. CDT | Informational Interviews: Connect with Alliance National Nonprofit Workforce Partners | Catholic Charities, YMCA of the USA, Boy Scouts of America  |
| On Demand | Best Practices for Participating in, Managing and Leading Virtual Teams | Billy Linstead Goldsmith and Kylie Nealis |
| On Demand | Financial Scenario Planning to Support Innovation | Steven J. Casey |
| On Demand | Fireside Chat: What Wicked Problems Are Keeping You Up at Night? | Susan T. Schmidt, CNP |
Friday, April 7, 2017
| | | |
| --- | --- | --- |
| Time | Title | Presenter(s) |
| 10 a.m. CDT | Your Technology Journey: How to Intelligently Reach Your Dream Destination | Allison O'Connor |
| 12 p.m. CDT | Social Enterprise Panel: A Business Model for the Common Good | Brenda Palms Barber (moderator), Matthew Zieger, Nancy Giles |
| 1:30 p.m. CDT | Live Twitter Chat: Innovations in Social Media | Trang Truong-Hill and Kevin Dietz |
| 4 p.m. CDT | StrengthsFinder Chat | Rhonda Knight Boyle |
| On Demand | Socrates and the Secret Sauce | William Browning |
| On Demand | What Melts Your Butter | David Williams |
| On Demand | Fireside Chat: What the Pitbull Tells Us | Susan T. Schmidt, CNP |
Saturday, April 8, 2017
| | | |
| --- | --- | --- |
| Time | Title | Presenter(s) |
| 1 p.m. CDT | Townhall Panel: Embracing Failure as a Part of Leadership | Crystal Williams, CNP, Rob Acton, Anedra Kerr |
| On Demand | Advocacy in the Digital Age | Lindsay Torrico |
| On Demand | How You Can Support Diversity and Inclusion at Your Nonprofit | Michael Watson |
| On Demand | Ethics in Nonprofits? How to Tackle Ethical Challenges | Amir St. Clair |
Speakers