Home

/

AMI Consulting Day
AMI Consulting Day is Friday, January 5, 2018. Consulting Day allows attendees to actively address real issues facing nonprofit organizations, work collaboratively to determine solutions and provide service to the host city. A group of ten university student consultants will examine an issue facing a nonprofit organization and offer ideas and solutions for the issue. Host sites receive access to innovative solutions presented by young professionals who have studied nonprofit management, have completed internships and/or are working in the sector, and are passionate about nonprofit work and improving communities. Past presentations by these groups have kick-started new initiatives and revamped current programs of participating nonprofits.
Nonprofit Organization Host Site Information 
Overview
AMI Consulting Day is a tremendous opportunity for selected organizations to host a group of student consultants who will address a critical issue facing the organization. Applicants are able to select from sample proposals that include many common issues facing nonprofit organizations (volunteer engagement and recruitment, millennial engagement, social media strategy, etc.). Applicants are also able to select an issue that is unique to their organization or situation. 
Is your nonprofit struggling with millennial engagement? Perhaps you need innovative ideas to enhance your marketing and social media strategies. Forty Kansas City nonprofit organizations will have the opportunity to obtain free consulting from a group of trained and invested young professionals from around the country. If your organization would like to participate,
please submit an application by 

September 30, 2017

.
Facilitator Information
Overview
Facilitators work with a group of 10 students who have come from schools across the country. They will travel with students to their assigned host site organization, as well as monitor and moderate the students' conversation, discussion, and brainstorming process. After developing their recommendations, students will present their report to the host site representative(s) and receive feedback. At the end of the day, facilitators will travel back with the students to the conference site. 
Additional responsibilities of an AMI Consulting Day facilitator include:
Prepare for facilitating by reviewing the case documents prior to January 5th
Attend a training webinar in December (registration link and further information to be distributed) and/or attend a training session on-site on January 5th.
Help the group establish a timeframe that will ensure all tasks are completed in the time allotted.
Assist the students in mitigating and resolving tension and conflict.
Guide discussion but remain neutral and ensure participation by the entire group.
Oversee the development of a group report to be presented to the host site representatives.
Moderate the feedback session with the host site staff and board members.
Hear from Big Brothers Big Sisters, a host site at AMI 2016 Houston: 
"I was so impressed by the outcomes of this case study. I was absolutely blown away by the quality of the ideas, the knowledge of the students, and their ability to grasp some complex issues and limitations in such a short amount of time. What a great experience for our agency. We are excited to start implementing some of the ideas, and look forward to seeing the lasting effects of some of the incredible ideas that were presented to us."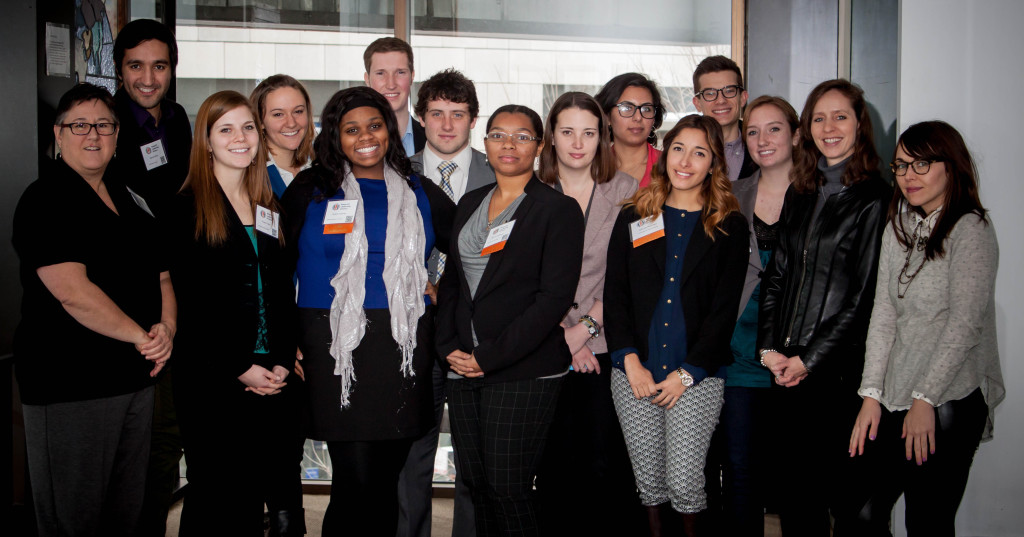 Consulting team from the AMI Consulting Day 2016 in Houston.