Join the Alliance
The Nonprofit Leadership Alliance partners with colleges and universities across the country to offer the Certified Nonprofit Professional (CNP) credential to undergraduate, graduate and professional students. Each campus uses the Alliance's proven model that combines classroom and hands-on learning. Learn more about the competency model and campus delivery through the Alliance Rubric Overview.
Learn more about the benefits of campus affiliation through this link.
Join a network with proven results. Learn more and watch the video (below) about how Alliance campuses are preparing students for a leadership position in the nonprofit sector.
Request Information About Becoming a Campus Partner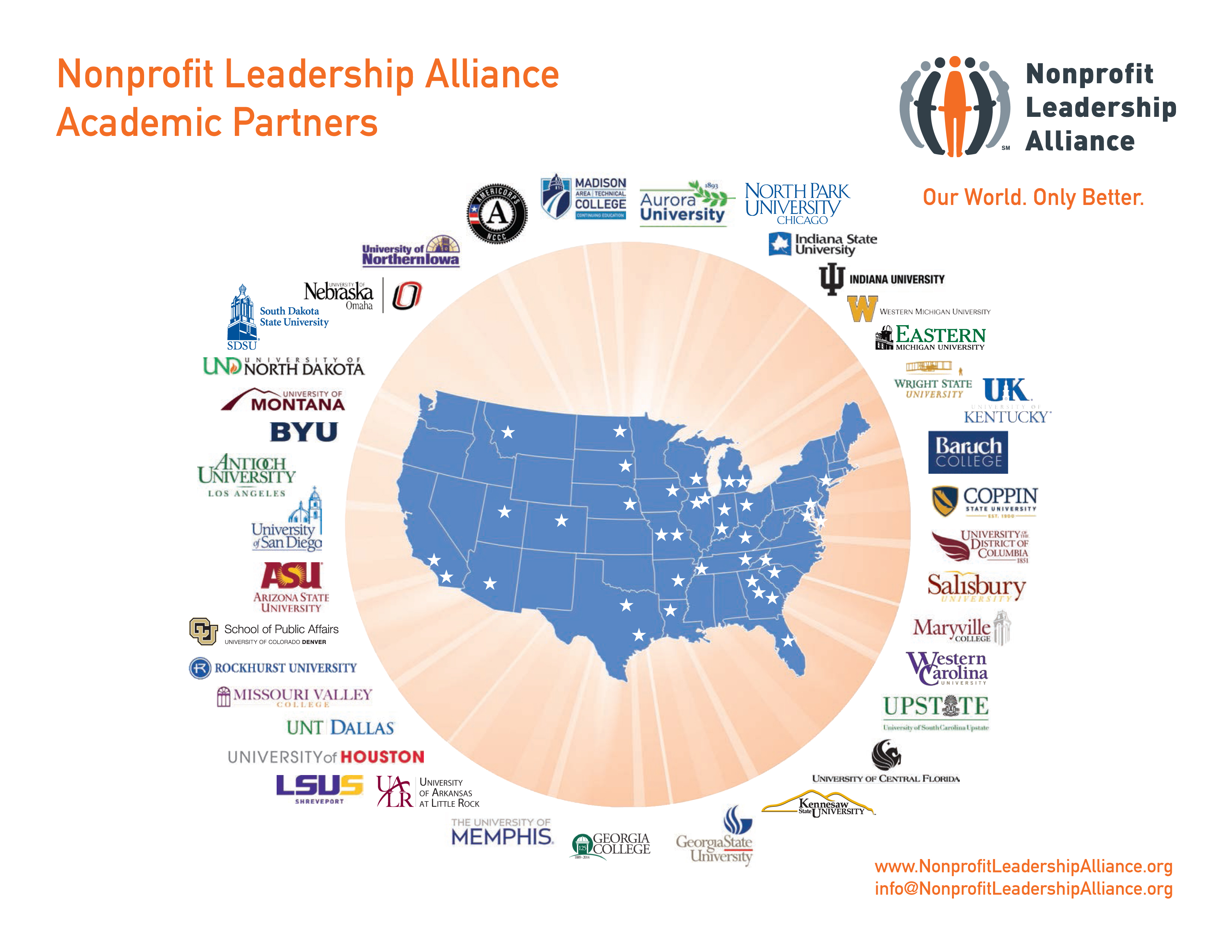 Current Campus Partners
AmeriCorps *NCCC Atlantic, Central, Pacific, Southern, Southwest
Arizona
Arizona State University
Arkansas
The University of Arkansas at Little Rock
California
Antioch University
University of San Diego
Colorado
University of Colorado Denver
District of Columbia
University of the District of Columbia
Florida
University of Central Florida
Georgia
Georgia College
Georgia State University
Kennesaw State University
Illinois
Aurora University
North Park University
Indiana
Indiana State University
Indiana University at Bloomington
Iowa
University of Northern Iowa
Louisiana
Louisiana State University of Shreveport
Maryland
Coppin State University
Salisbury University
Michigan
Central Michigan University 
Eastern Michigan University
Western Michigan University
Missouri
Missouri Valley College
Rockhurst University
North Carolina
Western Carolina University
North Dakota
University of North Dakota
Ohio
Wright State University
South Carolina
University of South Carolina Upstate
South Dakota
South Dakota State University
Tennessee
Maryville College
University of Memphis
Texas
University of Houston
University of North Texas – Dallas
Utah
Brigham Young University
Wisconsin
Madison College