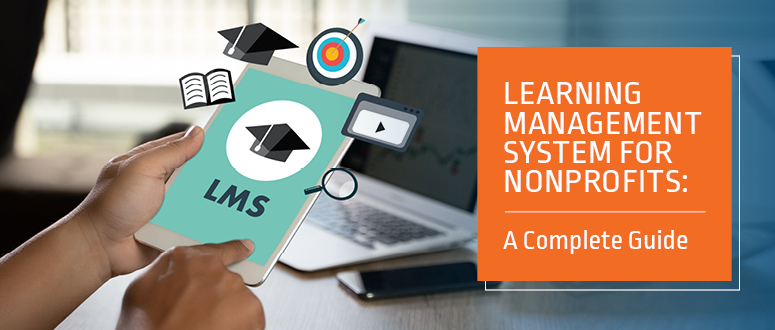 When you look around, there are opportunities to learn everywhere. You can learn from unfamiliar cultures, from older and wiser individuals, from youngsters with new outlooks on life, from books, and from so many other sources. However, there is still something to be said for guided learning opportunities, especially in the nonprofit sector. 
Nonprofits can provide educational programming to help educate their staff, members, constituents, clients and volunteers. These educational materials can help these individuals better understand their roles at the organization, therefore, helping you accomplish your mission.
That's one of the reasons why it's so valuable for nonprofits to invest in a comprehensive learning management system (LMS) dedicated to nonprofit organizations. Especially during the present climate, nonprofit learning management systems can provide an online platform for previously in-person training opportunities.
What is a learning management system? 
Learning management systems for nonprofits are software solutions designed to help organizations like yours design and implement training programs for donors, community members, and volunteers. The system automates the training process, allowing learners to experience educational opportunities at their own pace.
Here at the Nonprofit Leadership Alliance, we're a nonprofit serving nonprofits. We understand the troubles and tribulations that nonprofits experience and how those can be solved with a well designed LMS. In fact, we use one ourselves for our professional credential. Using our first-hand experience, we've put together this guide to help other mid-sized nonprofit organizations, like yourself, recognize what an LMS can do for you and invest in the right solution. 
In this guide, we'll cover the following topics:
Feel free to read this guide from the beginning or use the navigation above to jump to the section that piques your interest. Ready? Let's get started. 

Why Organizations Need an LMS for Nonprofits
There are several reasons a nonprofit might invest in a learning management system. It's an incredibly useful tool to have access to when training your staff, members, supporters, and volunteers. Plus, it helps maintain consistency in such training so that everyone experiencing the educational courses has the same (high) quality education materials. 
For instance, your organization might use the learning management system to accomplish the following: 
Onboarding new employees to the nonprofit

Training volunteers across chapters of the organization

Advancing skills of existing employees

Standardizing existing training programs offered by the nonprofit

Provide educational programming to clients and constituents to help accomplish your mission
Consider, as an example, the two following (fictional) organizations in two very different situations: 
Situation #1: 
The Save a Puppy animal shelter just opened their second location. This second location expands the organization's reach and allows them to rescue more animals and place them in happy homes. The problem is that they have limited staff power at each location and operate primarily on a volunteer basis. They're worried that their volunteers won't receive the same training at each location because different people are conducting the training. 
That's why they invest in a learning management system for nonprofits. This way, the Save a Puppy animal shelter is able to standardize their training materials so that volunteers at both shelters receive the same high-quality instruction. As an added bonus, they save time and resources as the training is all conducted virtually and can be completed on-demand by their volunteers, putting them in charge of their own training.
Situation #2: 
The Home Builder Organization is a nonprofit that works to build houses for families in third-world countries. In the last five years, their team has steadily expanded so that their number of employees has increased from 50 to 100. They've developed materials to help onboard their new employees and have worked to continue educating and developing skills in their existing employees, but want a more efficient way to accomplish these goals. 
This organization invested in a LMS for nonprofits to standardize their onboarding process for new employees as the team continues to expand. This saves their current employees time for accomplishing more mission-related tasks rather than training their new colleagues.
Plus, the organization was able to invest in a subscription-model system with a provider who does all of the back-end heavy lifting for them! With experts on their side who can convert existing training materials into an engaging online format on behalf of the organization, The Home Builder Organization was able to rest assured that their content not only covered their needs, but also created an engaging experience for team members.
Both of these organizations were able to make use of an LMS for very different purposes. However, since they invested in an effective system that can be configured to meet their organizational needs, they were able to use the same platform for multiple purposes.
That's one reason why it's so important to understand the features of an effective LMS for nonprofits. You can leverage a single solution to accomplish multiple tasks at the organization, effectively maximizing the use of your technology.
Features to Look for in a Learning Management System for Nonprofits
Once you've decided to invest in an effective Learning Management System for your nonprofit, you'll probably say to yourself, "Ok, great. Now what?"
The next step you'll need to take is determining the features that are most important in an LMS for your nonprofit. Every organization is different and may use the software to accomplish different tasks. Therefore, you'll probably prioritize certain features while your neighboring organization may put less emphasis on those same features. 
Below, we've listed out the features that we find to be the most important for the majority of nonprofits. Consider them carefully. Think about the goal you want to accomplish and how these features can be leveraged to accomplish that goal. Here are our favorite features: 
Self-paced learning.

Different learners may have different amounts of free time during which they can study. Or, they may just learn at different paces than their colleagues. Providing an opportunity for learners to pace themselves through the course makes it more likely that they'll stick with it and complete their learning experience. 

Peer communication platforms.

The opportunity for peers to connect with one another and discuss course topics is an immensely important aspect of the learning process. Therefore, make sure the LMS that you invest in offers this opportunity through the use of discussion boards and other networking features. 

Branded landing page.

Branding your learning center landing page is an important aspect of the learning experience. When learners first arrive at the LMS platform, they should immediately see your organization's logo. This makes it clear that they are about to access the correct information and learning materials. 

Diverse and engaging material.

One of the greatest challenges that organizations face when providing access to educational courses is ensuring their learners really learn as they engage with the course materials. One of the best ways to drive learning is by creating engaging and dynamic content, then reinforcing that content by applying key concepts to real-life situations.

Customized reporting options.

An effective learning management system for nonprofits will provide ample opportunities for your organization to track individuals' progress. Look for access to a comprehensive dashboard for a quick glance at your number and status of supporters.
When it comes to providing the most effective educational materials to appeal to an intended audience, the majority of nonprofits are not considered expert teachers. This often leads to misuse of learning management systems, even when an organization has invested in the best one on the market.
Luckily, there is another option! We recommend that your organization looks for a provider who will not only offer access to a best-of-breed LMS for nonprofits, but will also expertly convert existing materials or create new educational materials for your organization. 
With content experts on your side, you can be sure your courses—no matter the material or intended audience—are engaging and will drive success for your learners.

How to Choose a Learning Management System for Your Nonprofit
Investing in a new learning solution is a big deal. Not only are you trying to find a solution that will work most effectively for your learners, but also one that won't eat up too much time for your team members. 
Before you invest, be sure to conduct the necessary research and walk through the full investment process to be sure you're getting the best solution for your organization. The steps of this investment process include:
Establish goals for the solution.

You don't buy a platform simply for the sake of buying it. There should always be a specific motivation behind the investment and establish associated goals. For instance, are you converting existing materials for the solution or creating a whole new experience from scratch? What do you imagine it'll look like? 

Prioritize the most important features.

Use the goals you've established to decide which features in your LMS are most important for your organization. Prioritize this list of features and keep it in mind as you move forward looking for software. We recommend that organizations ensure engaging content and an intuitive experience (for your team and learners) make the list of priorities as both will drive success for all parties. 

Consider your potential software budget.

Set an ideal budget for your software investment. Make sure you're realistic in the amount of money you'd be willing to spend on the right solution. If it's too expensive for your organization right now, it might be worth fundraising a little more before making the investment to make sure you're not sacrificing in quality. 

Create a list of potential providers.

Ask your neighboring organizations for software recommendations, consult the

top software provider pages

from other trusted names in the nonprofit field, and conduct research using search engines. Your initial list might be lengthy, but that's ok. It will keep you from overlooking effective learning management systems.

Narrow your list further.

Use your list of top features, your budget, and your established goals to narrow the long list of potential solutions. Conduct research about each one and compare them side-by-side. Your resulting shortlist should have around five awesome solutions that you're seriously considering investing in. 

Demo software from your shortlist.

Sign up for and schedule software demos for the solutions on your shortlist. Be sure to take note of any questions you have for the provider before sitting down for the demo. These questions may be about specific software features, case studies, software training, or other topics of interest to your team. '

Make a final choice.

After you've sat through several software demos (probably reviewing your favorites more than once!), it'll be time to make the final decision. Congrats! You're almost done.

Implement the solution.

After you've invested in the learning management system for nonprofits, it's time to start setting up your courses and educational material for your learners. When you invest in a provider who handles all of the back-end work, this is the easy part! Just communicate openly about what it is you want to see, provide existing materials (or request new materials), and watch the magic happen. 
While you're conducting your research, be sure to ask the providers about their experience hosting courses in the past. When you have experts on your side who specialize in online learning consultation, you'll find that you can make the most of the solution in which you invested and create the best content possible. You should always feel well supported by your system provider even after your initial investment. 
Choosing the right learning management system for your nonprofit is an important and difficult decision. Make sure to set up your nonprofit for success and don't skip steps in the research process!
The Best Learning Management System for Nonprofits
Of course, we have our (potentially biased) opinion of the best learning management system for nonprofits. Leaderosity by Nonprofit Leadership Alliance is a system designed specifically for nonprofits, making it a unique option that comes equipped with the features almost every 501(c)(3) organization requires. 
Leaderosity offers all of the essential features that we listed in section two above. This means that no matter what your nonprofit's goals are, whether you're standardizing volunteer training, creating additional skill enhancement opportunities for your staff, or delivering programs to meet your mission, Leaderosity provides the answer. 
This LMS for nonprofits uses module software with an intuitive design to seamlessly guide your leaders through their content while keeping them fully engaged. 
Not only is Leaderosity one of the only learning management solutions built specifically for nonprofits, but it's also built to be intuitive for both your organization and your users. You don't have to worry about configuring the solution to meet your needs because The Alliance has already done that! They'll help you eliminate the usual learning curve when it comes to creating course content and ensure that everything is up-to-scratch. 
Whether you're adopting existing content to the Leaderosity system or creating brand new courses, the experts at The Nonprofit Leadership Alliance can help you get there. You're not only investing in an LMS for your nonprofit, you're investing in a comprehensive service provider who will stand by your side, work with your team, and create the educational content you need to meet your goals.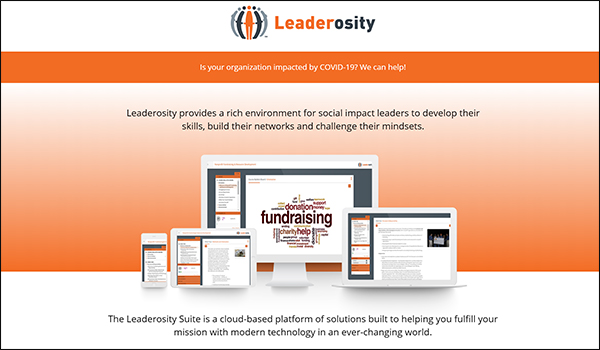 As your nonprofit continues looking for ways to improve and advance your mission, be sure to consider the advantages that professional development opportunities can bring. 
Dive deeper into your research about learning management systems for nonprofits with resources like the following: