Home

/

The CNP Credential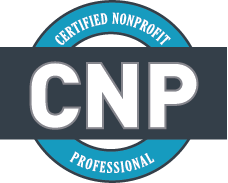 The Certified Nonprofit Professional (CNP) credential is the only national nonprofit credential preparing students (undergraduate, graduate and professionals) for leadership in the nonprofit sector. Students who complete a leadership development program at one of the Nonprofit Leadership Alliance's affiliated colleges or universities are awarded the credential and gain access to a network of nonprofit career resources.
Both experts in nonprofit studies and nonprofit practitioners joined forces to create the CNP Program. The goal was to create a unique leadership development program designed to reduce the learning curve of nonprofit professionals, allowing them to immediately impact their organization and communities. This is accomplished by allowing students to build on the competencies gained in the classroom through applied-learning activities. Through this model, students move beyond simply gaining domain knowledge to building the critical-thinking skills essential for successful leadership.
For more information about the 10 core competencies taught in all CNP programs, click here.  Independent research shows that CNPs are seven times more likely to rise to director or higher levels (compared with their non-CNP peers). View the CNP Impact Map to meet some of the CNPs who are putting this leadership training to work. 
Ready to start searching for a campus that offers the CNP? Click here.
Interested in earning the CNP online? Click here.
Jonatan Saldner, CNP
Sr. Specialist, World Service and Administration, YMCA of the USA
"The CNP Credential Program provided me with the technical skills, practical experience and professional network necessary to successfully enter the nonprofit sector after graduating. I would encourage everyone with an interest in nonprofit careers to pursue the CNP."
In 2018, the Alliance celebrated its 70th anniversary. Watch this video to see how four generations of CNPs have changed the world for the better.