Home

/

The CNP Credential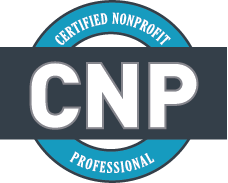 The Certified Nonprofit Professional (CNP) credential is the only national nonprofit credential preparing students (undergraduate, graduate and professionals) for careers in nonprofit management. Students who complete a leadership development program at one of the Nonprofit Leadership Alliance's affiliated colleges or universities are awarded the credential and gain access to a network of nonprofit career resources, including the CNP network.
The training for the Alliance's CNP credential is based on the 10 core competencies that hiring managers are looking for in prospective employees. In fact, research shows that professionals who receive their CNP credential are seven times more likely to rise to director or higher levels (compared with their non-CNP peers).
Ready to start searching for a campus that offers the CNP? Click here.
Interested in earning the CNP online? Click here for more information.